Reading Time:
5
minutes
By Emerald Bensadoun
It was a crisp Tuesday afternoon. Chris Finnigan, one of Ryerson's most eligible squirrels, died earlier that morning and the police had no leads. He appeared to have taken a swift boot to the skull, and died holding a Tim Hortons Roll up the Rim coffee cup in his dainty, surprisingly well-groomed paws. We all gasped at the time when we heard. But something was amiss. Like any celebrity death, Chris Finnigan's was shrouded in mystery and conspiracy theories. I was determined to solve them.
I was on my way to work at The Eyeopener office when we received our most important tip yet. It was encrypted, the passwords a series of mythical creatures spelling out the words "Lachemi did it." It was time to investigate. But the news team was busy and I didn't feel like working, so with an iPhone for a camera, a recorder and a takeout container full of french fries, I went to go find Ryerson president Mohamed Lachemi.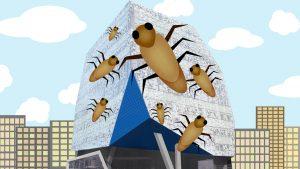 When I didn't find him in his office, I headed to Ryerson's equivalent of a watering hole: the Student Learning Center (SLC). Walking down Gould Street, I could see Ryerson University president Lachemi's triumphant face eerily livestreaming on every laptop. "Innovation, innovation, innovation—and a few cockroaches," he said. "Just like, 15 or 20 at most to eat up all the bed bugs." This was referring, of course, to Lachemi's latest solution for the school's bed bug problem. To me, it felt like Big Ryerson was watching. Regardless of whether or not those cameras were peering back at me, one thing was certain: there was no escaping the big, bad Lachemz.
"Skrrrrrrrrrrah pap pap kak kak kak skibiidipap pap and a pupubrrdooom," Lachemi's new rap song, Fuck You True Blue, an ode to the University of Toronto, rang out on every cell phone with a decent speaker. Since the school's big break up with Tim Hortons, Lachemi had turned to rap for solace. Somewhere, the entirely-Lachemi funded group, Young Rappers of Ryerson,
were rejoicing.
The Tim Hortons break in matrimony was also plagued with secrecy. In an announcement, Lahemi publicly cited irreconcilable differences, but everybody knew their separation was less than mutual, and nobody on campus had heard from Tims since.
Lachemi, with his trendy U of T diss track, was winning the school over—but not me. The school's mysterious split from its beloved Tim Hortons franchise was only the beginning of Ryerson's descent into a bizarro madness filled with gimmicks and Lachemi's lyrics. The student body's demand for rap only grew when the Ryerson Students' Union  (RSU) "accidentally" delivered Drake and Josh star Drake Bell, instead of rap sensation Drake.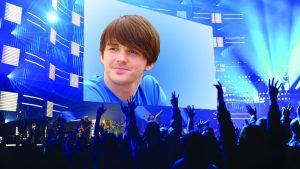 Was it an accident? In a press conference, RSU president Susanne Nyaga denied intentionally hiring the Nickelodeon has-been, calling it a "classic mix up," but I wasn't so sure. 
Moving from the Ryerson Communications Centre bridge, I passed the Rhino Party guillotine on the second floor of the SLC with caution. They were supposed to put it away once they lost the election, but old habits die hard. Let them eat cake, am I right? They'd been campaigning even though it wasn't election season, which was against the rules but nobody was cracking down. It took me a while to get down the stairs. The slides, whose wavy rainbow exteriors once glistened in the daylight, all rubbery and with the promise of a fun day at school, looked sinister—and scuffed. On Feb. 6, 2018 Lachemi announced that all SLC stairs would be replaced with slides without any explanation. "Why would anybody actually do this?" I
wondered. I pushed the thought aside. If I was going to find out what happened to the school's beloved Chris  Finnigan, I had work to do. I took the trampoline downstairs instead.
Bouncing from one floor to another, I couldn't help but notice a palpable tension in the air. All of the school's crazy antics seemed almost intentional, and I was certain that the death of Ryerson's most eligible squirrel was no accident. Could it all be connected? I needed to find Lachemi, but I was running out of places to look. Then I felt it.   
The floors echoed, and I could feel the tremors of a base below my feet. Was that rap music coming from the basement? Could it be? Being a journalist is all about living life on the edge, so defying all safety rules about running in corridors in schools, I sprinted down the stairs into the basement, iPhone first.
By the time I got there it must have been dark outside. What time it was, I couldn't recall. In the depths of the dark SLC basement Ryerson condemned its theatre kids to, time had no meaning.
I approached the basement's dark abyss with caution, unsure of what would await me upon my descent. My eyes immediately wandered to the theatre department's decrepit mock stage. Drake Bell was on stage, performing what sounded like a clean version of Lil Wayne's Lollipop. The Rhino Party president, Eric Halberdash, was filming. I nearly dropped my
french fries.
"You're going to make a great RSU president someday, Eric," Lachemi laughed. "Thanks for all your help with Drake."
If that was supposed to be a joke, Halberdash wasn't laughing. "I sold my soul for a cushy office space and $15 an hour. What have I become?" lamented Halberdash.
And then one of my fries fell to the floor. All three heads turned towards me. I took a big gulp. I tried to pick  it up but that didn't make me look any less conspicuous. I began nervously eating my remaining fries, doing my best to look casual.
Lachemi was eerily calm and unblinking. "It's a beautiful day for innovation, isn't it?" he said. 
My cover was blown. Maybe it was the rap song playing in the background, or maybe it was all the dust inside of the basement, but something snapped inside of me. I knew I'd just witnessed something important. I cleared my throat. "Emerald Bensadoun," I said. "Fun and satire editor at The Eye."
"What happened to Chris Finnigan?" I demanded with wild hand gestures, fries a-blazing. "What happened to my $1.50 bagel, damn it?"
Lachemi smiled and sipped from a Starbucks cup swathed in Ryerson's coveted blue and gold colours—a gift from Starbucks to commemorate their new relationship—and I knew. All of the conspiracies were true. "Oh, Emerald," he said. "I don't like to  destroy things. I like to build things." 
"Picture this," said Lachemi. "All eyes on Ryerson University, the  coolest school in town. What do they specialize in?" He paused for  dramatic effect.
I honestly didn't know, so I stood there and did my best not to eat during what I assumed was a big moment for our dear Lachemz. "RAP
BATTLES," he said. "THE GREATEST RAP BATTLES IN THE WORLD. One squirrel may have had to die, and maybe the RSU had to take the fall for hiring the wrong Drake. We even had to get rid of Tim Hortons, but I'd do it again." 
I'd heard enough. I bounded back up the stairs, running and wheezing until I finally saw sunlight. This was a matter of public interest. As I walked the short distance back to The Eyeopener office, the distinct stink of Gould Street filled my nostrils.
For all my excitement, I'd forgotten to take any photos, video or audio recordings. I sat back down at my desk knowing nobody would believe me. I needed to garner more credibility. So one year later, I decided to become a news editor. Catch me in the news section next year, where I'll be covering all the mysteries.