Reading Time:
3
minutes
By Charlize Alcaraz
When his golden retriever Kimi died due to a chronic condition three years ago, Zach Sheng wondered what might have led to his family dog's passing.
As a long-time pet owner who has worked in the pet industry since he was 15 years old, Sheng said one of the things he could control when taking care of his 'fur baby' is how and what he fed Kimi. 
"Dogs are like humans, diet is very important," the business management student said. "The things we used to feed Kimi might have been the reason that led to [his] chronic conditions."
Dogs Naturally Magazine reported that commercially-bought kibble not only stores harmful toxins, but are also stripped of much of their nutrient value. Manufacturers attempt to re-integrate some of the lost nutrients back in with synthetic vitamins and minerals, however some studies have shown that these vitamins can cause more harm than good.
Since the pet's body can't use them, the synthetic products are instead processed as a foreign substance, causing stress to the liver and kidneys. 
Heartbroken by Kimi's passing, Sheng changed his approach to his pets' diets and wanted to create a natural and ethical alternative. 
With the insight he gained from talking to customers in his past jobs in pet retail, manufacturing and training, Sheng launched Charmy Pet, a pet treats company named after his Dutch Shepherd, in March 2020. 
The startup conducts its own research and development with a focus on combining Eastern and Western medicine. It is also currently being supported by the DMZ at Ryerson, a business incubator for early-stage technology startups.
Charmy Pet's subscription-based service allows animal parents to customise their dog's treats based on their nutritional, dietary and behavioural needs.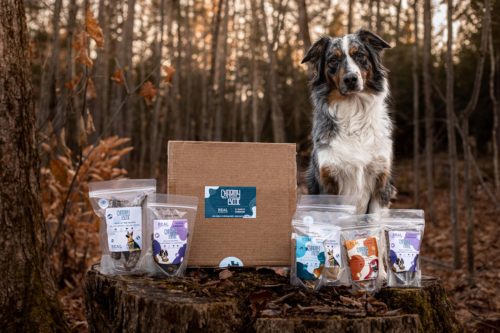 Sheng said the bootstrapped startup uses its own algorithms to find the perfect combination of protein and nutrients for that specific pet's needs.
The company's products are available online and in 70 retailers across Ontario, most of which are small businesses and mom-and-pop stores. 
Driven by its recent expansion to the U.S. in October 2021, Sheng said that Charmy Pet intends to add products for cats and horses to its line of offerings.
According to Sheng, it takes two weeks to curate Charmy Pet's pet-specific products and deliver them to its clients' doors.
Charmy Pet uses ingredients such as ethically raised, grass-fed beef; pasture-raised lamb; humanely raised rabbit; raised free-run duck; free range chicken; and traditional Chinese herbs. 
In a special project with the University of Guelph, Charmy Pet is conducting research on how traditional Chinese herbal medicine can be integrated into pet food. The partnership is expected to close in August.
"I have been raised [with] this wonderful concept of traditional Chinese medicines…so I was thinking, what if we can bring this to our pets?," Sheng said. "Because it's a very new concept, especially in the pet industry, we want to integrate [it] with Western medicine too."
Yunnan Bai Yao is one such example of a Chinese herb that can be used to control bleeding in humans and in dogs. Veterinarians have used this herb for bleeding disorders and conditions. 
Sheng said he noticed a change in how people have been recently feeding their pets. "Who doesn't want [their] pets to live longer, healthier, happier lives?" he said.
"They know that pet food would help to extend or shorten life for their pets, so when it comes to selections, consumers are very cautious right now."