Reading Time:
3
minutes
By Elizabeth Sargeant
When author and 2007 Ryerson performance acting grad Haley McGee found herself overwhelmed with debt in 2016, she turned to an apartment filled with artifacts from her past.
"I was on the phone with my credit card company kind of bartering with them and I heard myself say, 'I'm going to have a yard sale.' Then I looked around my flat and I realized that the only things I could actually sell had been given to me by various ex-boyfriends of mine," she said.
Immediately, McGee fell down a rabbit hole, becoming obsessed with the idea that you really could, in a way, put a price on love.
"I look at my white gold sapphire and diamond necklace and it's probably the most valuable in terms of money."
However, McGee realized the person who gave it to her was the person she lost her virginity to, reckoning that would increase the value. But on the other hand, she lied about being in love with him.
"I thought surely there is some mathematical formula that could take into account all the ways we invest in our romantic relationships and spit out a price for the material things we have when it dies. It's a formula for the cost of love."
"It's a formula for the cost of love"
McGee said that once she had this initial idea, she felt compelled to make a solo show about it. McGee believed this would help her break into the United Kingdom acting scene where she lives and get out of debt while "expunging the sorrow" from past relationships. She connected with a mathematician, a few experts and reached out to past partners to create her own one-woman show, Ex-Boyfriend Yard Sale—now a memoir.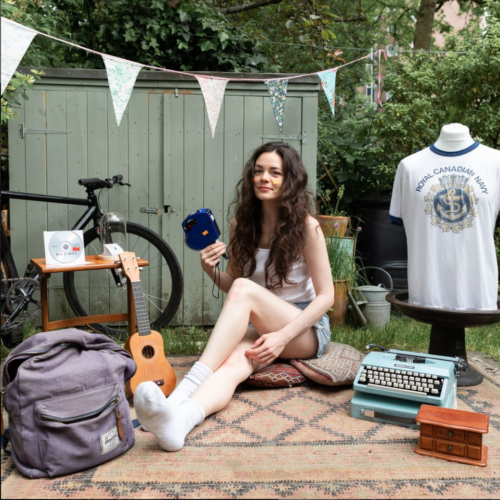 McGee's autobiographical show blended personal narrative and expert opinion as she toured across stages in the U.K. and North America.
In moments of the show, she was wrapped in bubble wrap and packing paper, other times sharing clips of interviews from past partners and drawing out dizzying mathematical equations, alongside the various mementos characterized as each ex-boyfriend.
Using nearly 90 variables such as how much McGee cried in the relationship, who paid more, how great the sex was etc., she prepared for the show by truly diving deep into her previous relationships to deliver a story of how love, money and relationships interact in just 90 minutes.
"The first draft of the show was 60,000 words which took about six hours to read out loud. It seemed apparent early on that there was maybe a book in there…honestly, it's been a dream come true. It feels very magical and I'm so thankful."
The book is already out in the U.K. and will be available Feb. 1 in Canada—McGee's home country where her creative skills initially blossomed.
In 2003, McGee enrolled at Ryerson University and said she was greeted by a community of other aspiring artists.
"Figure out what makes you feel most alive…and follow that"
"I was so excited to be living in Toronto after growing up in Kitchener-Waterloo," said McGee. "I had lots of moments in that first year in university, looking up at the billboards in Dundas Square and thinking, 'I live here.'"
It was that first year when she met now-retired professor Sheldon Rosen, whose impact has left a lasting mark on her writing.
"[Rosen] taught the creative performance [stream] and we had it every year. He was the person who was like 'You're a writer, you should keep writing.'" she said. "He was really, really encouraging."
According to Rosen, the creative performance stream was designed to help actors and dancers "polish and expand their own unique voices, not imitate others"—something McGee picked up on over her four years.
"All Haley's projects are unique and personal as well as truthful and entertaining. She was dynamic, intense, open and committed as a student," said Rosen. "She was truly open to learning and growing."
For students who are in the same shoes as McGee was in 2007—aspirational and on their way to entering an unpredictable industry—she says that following their own voice is the best route.
"You have something very special to contribute to the arts community," she said.
"Figure out what makes you feel most alive and what you want to say and follow that."