Reading Time:
2
minutes
By Natalia Balcerzak 
Ryerson is all about making noise, so when 1,291 students and staff showed up Thursday in the quad, they were there to get louder. With school spirit and lots of confetti, they broke the unofficial Guinness World Record for most people controlling paddle balls at once.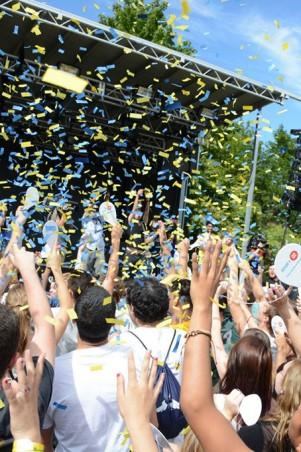 Ryerson Student Life is the student orientation team behind the event. They have been organizing similar challenges and events for the past eight years.
Brian Millado, an events leader of the orientation team and fourth-year English student, said that there was more to organizing the challenge than just setting a time and a place for it to happen. Planning began before summer even started.
"There's an online process [for the Guinness World Record] that happens," said Millado. " We have to provide a follow-up of some video footage, letters and an official statement. "
Their application was submitted in June, approved in July, and from there they had to find sponsors to make the record possible. The paddle balls were donated by the Bank of Montreal from the Yonge and Gerrard branch.
The team searched through Google in order to find ideas for the challenge. After deciding on a record to try and beat, they kept it a secret for months. There were rumours floating around about it being a giant ice bucket challenge prior to the actual event being announced.
" [Paddle balls] remind me of those cartoons and whatnot — it has a nostalgic feel about it," said Millado. " Every year we get amazing numbers because I think the students come out to be a part of Ryerson tradition and to create history in the Guinness World Record."
To make the record legitimate, the orientation team had to keep the challenge in an enclosed area to ensure an accurate count. Everybody had to do 30 seconds of hard-core paddle-balling to get Ryerson into the big book.
Throughout the week, the orientation team relied on over 150 volunteers to help new students feel welcomed at Ryerson by organizing events such as the world record challenge.