Reading Time:
7
minutes
BETWEEN ONTARIO'S STUDENT CHOICE INITIATIVE, THE CANCELLATION OF THE BASIC INCOME PILOT PROJECT AND FREE TUITION FOR POST-SECONDARY STUDENTS, FOOD SECURITY ON CAMPUS IS UNDER THREAT
By Sherina Harris
A line builds outside before the Good Food Centre (GFC) opens on a Wednesday afternoon. The doors are currently closed to the people congregating in the lounge on the second floor of Ryerson's Student Campus Centre (SCC). The line extends from the hallway to the couches.

Inside, the refrigerator hums loudly as employees unpack this week's shipment. They stock the shelves with fruits and vegetables—carrots, eggplants, cucumbers, peppers, apples and more—along with packaged goods like cereal, crackers and soup.

Students who use the GFC are given 10 "points" each week, or more if they have a dependent. Each item of food costs a certain amount of points. They load their items into a black plastic bin in the centre of the room where it's counted by a centre coordinator.

At 1 p.m., the first people come into the room holding green slips of paper with a number written it. A printed sign posted on the wall reminds members to bring a reusable bag.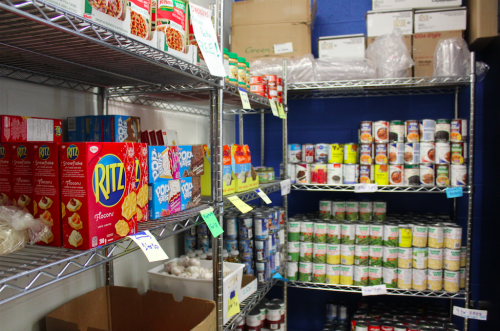 Staff estimate between 300 to 400 people use the GFC each week—including both students and community members at George Brown College and Ryerson University. The centre got a boost in funding after a 2017 referendum where Ryerson students voted to pay $5 to the GFC—along with $5 to the Sexual Assault Survivor Support Line—each year.
Emily Kolomvos, a coordinator at the GFC, thinks the funds secured by the referendum made a big difference in the centre's ability to provide food to students on campus. She says the number of members doubled this year.

However, the GFC funds fall under the Ryerson Students' Union (RSU) fee. In January, the Ontario provincial government announced the Student Choice Initiative, which will allow students to opt out of paying for certain non-tuition fees.

The guidelines released at the end of March don't mention programs like food banks. RSU president Maklane deWever previously told The Eye he thought the GFC will fall into the category of a mandatory fee. At a Board of Governors (BoG) meeting on April 29, Ryerson approved its 2019-20 budget, which included the detail that around two-thirds of RSU fees will be mandatory.

Ryerson's public affairs office told The Eye that the GFC will fall under the Health and Safety fee in student tuition. When asked whether the GFC, and the RSU's other equity centres, will receive 100 per cent of the funding they received in past years, a spokesperson said the full fee schedule "will [be] implemented in time for the fall 2019 semester" and details will be available in the late summer.
"What we're now seeing with these changes is that the very institutions that are at the frontline of this problem, like food banks, are under threat."
The Hunger Report, GFC's most recent report on food insecurity at Ryerson, suggests 38.9 per cent of Ryerson students experience moderate food insecurity. Eight per cent experienced severe food insecurity resulting in skipping meals or not eating for an entire day, the same 2017-18 report indicates.

Andrea Moraes, a contract lecturer at Ryerson's school of nutrition, defines food insecurity as a situation where someone doesn't have the financial means to access healthy food. At Ryerson, there are particular challenges with so many students commuting to the school's urban location.

Moraes recalls that in a recent presentation, one student said there were five McDonald's within walking distance of campus. While there is cheap fast food available, healthy and affordable options are harder to find.

The high prevalence of food insecurity doesn't only mean some students are going to class hungry. People experiencing food insecurity are more likely to have poor mental health and chronic health conditions, according to reports from PROOF, a research group at the University of Toronto.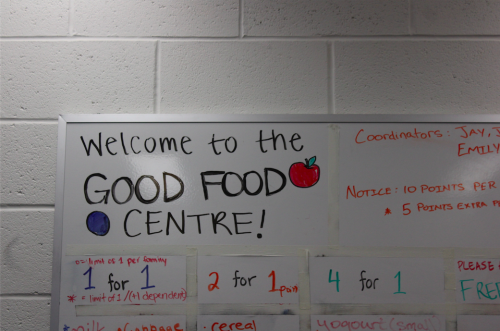 Giving students the option to opt out of certain ancillary fees is not the only political decision that could impact food insecurity on university campuses.

In July, Doug Ford's provincial government announced its intent to end Ontario's Basic Income Pilot Project, which gave a base-level income to participants in the test cities of Hamilton, Brantford, Thunder Bay and Lindsay. The final payment as part of the project went out on the last day of March.

The survey to monitor the results of the pilot project specifically named changes in participants' food security as an area of evidence to examine. The project would have been helpful to students to increase their overall income and, by extension, their access to healthy food, Moraes says.

She also notes the government's cancellation of the "free-tuition" program, which gave low-income students their entire financial assistance in the form of a grant. Under the Ford government's changes to the Ontario Student Assistance Program (OSAP), at least 10 per cent of a students' financial assistance must be a loan.

The Hunger Report lists rising tuition costs as one of the key barriers to student food security. Students living alone—who might also have to pay for rent and other living costs—are some of the people most vulnerable to food insecurity, the report states.

"Those are the students who are struggling the most to pay," Moraes says, adding that low-income students might be paying with their tuition alone if their parents can't or don't help.

When Siddhanth Satish wants to cook something that reminds him of home, he has to go to the Gerrard India Bazaar in Leslieville to find food and spices. Being an international student, the food available close to him isn't always culturally acceptable or accessible, two factors that experts say tie into the concept of food insecurity.

The third-year hospitality and tourism student uses the GFC every week to buy food. His favourite things to buy are pomegranates and chocolate milk—and, because the centre makes an effort to stock up on them, Indian spices.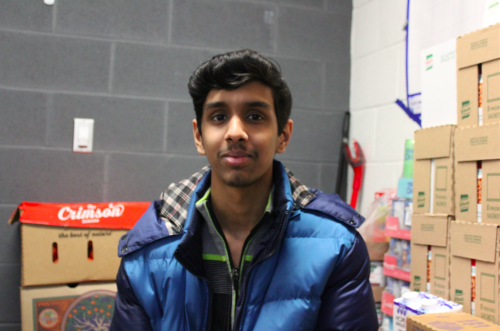 Like many socio-economic issues, food insecurity disproportionately impacts racialized students. The Hunger Report suggests 73 per cent of GFC members are people of colour and almost 28 per cent are international students.

International students at Ryerson pay between $25,926 and $29,219 in annual tuition fees, whereas domestic students pay between $7,639 and $12,241.
"You should always be able to get food whenever you'd like, without thinking about money."
This gap could widen even more next year. With the 10 per cent cut to domestic student tuition, some post-secondary institutions are looking at increasing international student tuition to make up the difference. Ryerson will be increasing tuition fees for both current and incoming international students, according to information discussed at the April BoG meeting.

"We are finding that international students, Indigenous students and racialized students tend to bear the burden of this problem more so than other students," says Merryn Maynard, the knowledge mobilization manager at Meal Exchange Canada.

Meal Exchange is a national organization that provides mentorship and resources to students to address food insecurity on post-secondary campuses.
One challenge in tackling food insecurity, Maynard notes, is that there isn't a designated person at a university responsible for it. It might fall under a health and wellness portfolio, but because on a fundamental level it's about supporting students, it could be anyone's responsibility. Many efforts at Ryerson, for example, are student-led.

Maynard says although there's not an easy answer to the question of what to do about food insecurity, part of the solution needs to be to keep track of who is being impacted.

Moraes agrees. She uses the Hunger Report to start discussions in her nutrition courses, mindful of the fact that students within her classes could be experiencing food insecurity.

She says if the GFC didn't collect data on food insecurity at Ryerson, she doesn't think there would be anyone else keeping track of it.

Maynard says the collaboration coming out of Ryerson on food insecurity is exciting, noting the work of groups like the Ryerson Food Council and Ryerson Students for Food Security. But she adds that the responsibility to alleviate food insecurity can't just be on student-run food banks like the GFC.

"What we're now seeing with these changes is that the very institutions that are at the frontline of this problem, like food banks, are under threat," she says.

She says the system is in a "fear state" with students unaware of what future cuts could look like.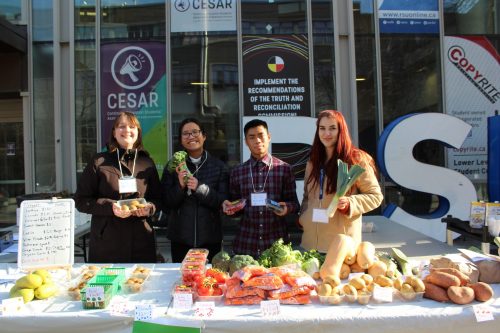 On a sunny day, students stream past the SCC on Gould street, but several stop at the table set up with a white tablecloth blowing in the breeze. A whiteboard propped up on the table lists the prices of the food: $1.75 for a mango and six potatoes for $1.

Maria Jude, a fourth-year nutrition student, founded Ryerson Students for Food Security in September 2018. She led the effort to create the Good Food Market (GFM).

"What I've noticed is that people look disinterested and then they see the board and they're like, 'Six apples for a dollar? Oh my God,'" she says. "A lot of people are drawn in by the prices, or there are people who are super hungry and they're like, 'Finally, I can have something for lunch.'"

The GFM had its official launch on March 27. They receive shipments on Wednesdays from a food sharing terminal in Toronto, and mark the food up slightly. The food that isn't purchased by the end of the day is donated to the GFC.

In the first two weeks, the GFM sold out of almost all of its stock. People have been requesting specific foods they want to see, including more in-season and local produce.
The GFM got a grant from Ryerson's Student Initiative Fund, which is funded by the university and not by student levies. This means the market won't be impacted by students opting out of ancillary fees. Jude planned to pilot the market for four weeks, and if the feedback from surveys is positive, she will use the funds from this year's sales to continue the market in September, she says.
Jude said she hopes Ryerson makes the GFC fee mandatory because it's a big responsibility to address food insecurity on campus.
Kolomvos, the GFC coordinator, says if the fee wasn't mandatory, the centre could look into introducing a small membership fee each semester. But she hopes it won't be necessary.
"It's a right," she says. "You should always be able to get food whenever you'd like, without thinking about money, so everybody can advance their academic career."